ARMSTRONG w GDAŃSKU – 1959
1959 – ARMSTRONG w GDAŃSKU –Na łamach Dziennika Bałtyckiego ukazała się obszerna notka zatytułowana "Nareszcie Louis Armstrong u nas!", co brzmi intrygująco. Można to jednak również nazwać nadużyciem, bo Armstrong nigdy w Polsce nie gościł. W tym przypadku chodziło o polską pra-premierę filmu biograficznego "Satchmo the Great", w którym obok Louisa Armstronga wystąpili m.in. 120-osobowa New York Philharmonic Orchestra p/d Leonarda Bernsteina oraz Barrett Deems, W. C. Handy, Billy Kyle, Jack Lesberg, Claude Luter i Arvell Shaw. Miała ona miejsce 1 sierpnia 1959 roku w KSW "Żak".
Anons ten ma szerszy historycznie kontekst, ponieważ np. już trzy lata wcześniej (1956), na zamkniętych spotkaniach, w Gdańsku i Sopocie (SPATiF) wyświetlono amerykański film "Błękitna Rapsodia" (Rhapsody In Blue) w reżyserii Irvinga Rappera z 1945 roku opowiadający o życiu George Gershwina, który tytułowy utwór skomponował 21 lat wcześniej. Co ciekawe, wygląda na to, że film ten nie miał oficjalnej premiery w Polsce, choć jego kopia znajdowała się w zasobach Centrali Wynajmu Filmów, skąd wydębił ją red. Sławomir Sierecki.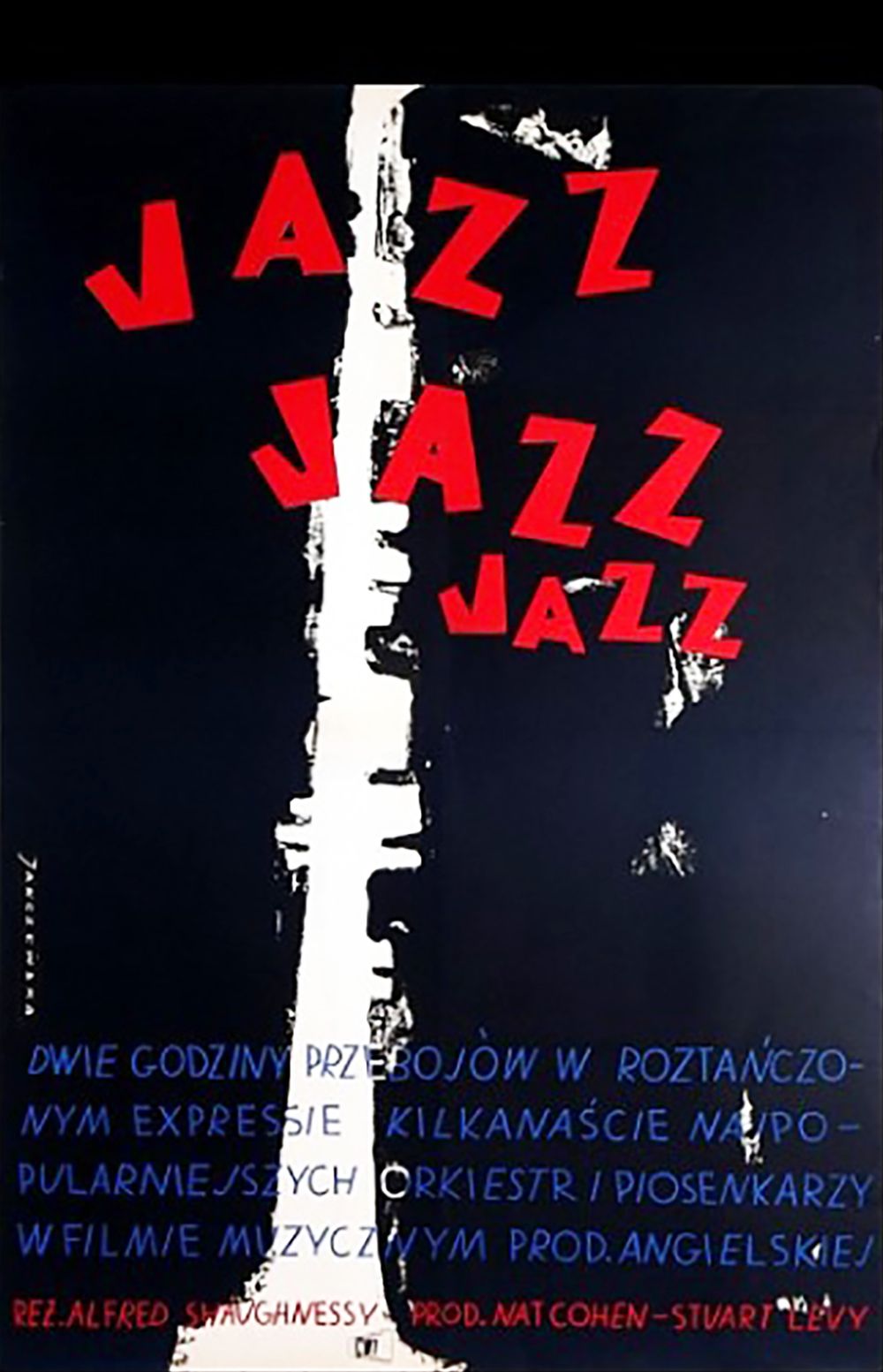 Tego typu "zamkniętych" seansów było w tym czasie znacznie więcej i tak na przykład w KSW "Żak", pod patronatem miesięcznika "Jazz", dwukrotnie wyświetlono (20.10.1958) kilka filmów średniometrażowych, które miały na celu: "popularyzowanie wśród młodzieży (i nie-młodzieży) wybitnych muzyków naszego stulecia". Bohaterami tych projekcji byli: pianista Artur Rubinstein, skrzypek Jascha Heifetz oraz ciemnoskóra śpiewaczka, Marian Anderson.
Podobne seanse wyświetlano w klubie "Kwadratowa" (1961-62) – m.in. dokumentalne filmy z New Port Jazz Festival. Klub mieścił się i mieści się do dzisiaj na terenie Politechniki Gdańskiej, gdzie Milicja Obywatelska nie miała wtedy wstępu, więc funkcjonariusze w legitymowaniu ich uczestników zza węgła.
Późną jesienią 1962 roku w kilku kinach większych miast Polski (m.in. w Krakowie) wyświetlano też angielski film "Jazz, jazz, jazz" (Six-Five Special) w reż. Alfreda Shaughnessy'ego z 1958 roku, w którym było jednak więcej tańca niż jazzu. Występowali w nim m.in.: Petula Clark, Cleo Laine oraz orkiestra jazzująca Johnny Dankwortha.